ACT for Law Enforcement
Printer-friendly version
Thank you for visiting this page dedicated to working with law enforcement officers. More broadly, other uniformed service professionals, such as firefighters, service members or veterans, correctional officers, paramedics, and EMTs may benefit from the training information presented here. I believe the information may also help family members, friends, and behavioral health professionals provide law enforcement officers with a supportive environment to live their lives with more purpose and vitality, guided by their values.
In providing training and behavioral health services to law enforcement officers, I use a simple and intuitive tool that I call the "Crosshairs" (Gallo, 2017). It's a diagram adapted from the "ACT Matrix" by permission from Kevin Polk (2011; see also Polk, Schoendorff, Webster, & Fabian, 2016).
The Crosshairs Diagram
Imagine for a moment that you just washed some silverware, and you're sorting it into a kitchen cabinet drawer. You can put forks, spoons, butter knives, and sharp knives into different piles according to their common characteristics. It turns out that you can do the same thing with situations in life.
The Crosshairs diagram is a highly-effective tool to help you look at situations that show up in your life, divide, and sort the things you do in them. Using the Crosshairs diagram results in being more aware of whether the things you do to deal with painful thoughts, feelings, and situations are helpful or unhelpful in living your values at work, home, or in other important areas of life.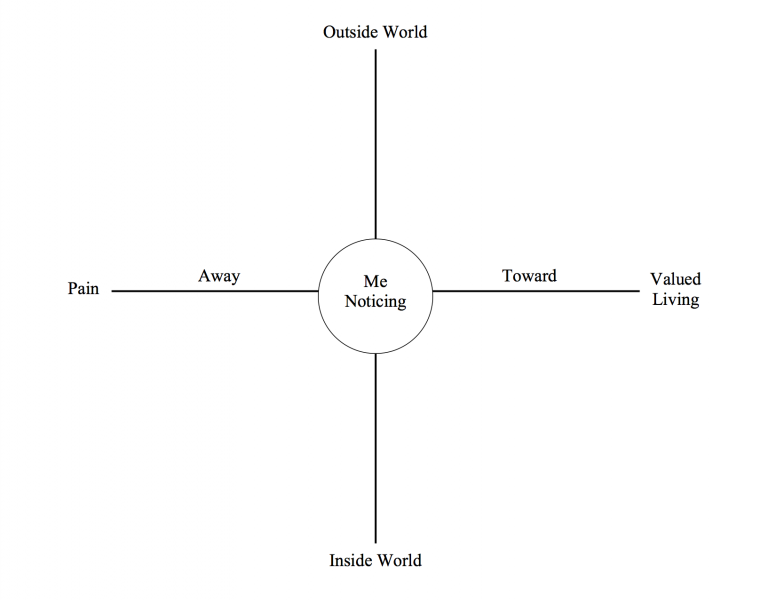 To learn more about the Crosshairs diagram, watch the animated video below. It tells the story of the Crosshairs diagram and its different parts. It helps make the diagram simple to use and puts it all in perspective.
You may also visit Blue Life Behavioral Health dedicated to providing treatment, coaching, training and education to federal, state, county, and municipal law enforcement officers: https://bluelifebehavioralhealth.com.
References
Gallo, F. J. (2017). Bouncing back from trauma: The essential step-by-step guide for police readiness. North Charleston, SC: CreateSpace Independent Publishing Platform.
Gallo, F. J. (In Press). Police use of force. In J. Kitaeff (Ed.), Handbook of police psychology (2nd ed.). New York, NY: Routledge, Psychology Press.

Polk, K. (2011).

Psychological flexibility training (PFT): Flexing your mind along with your muscles.

Seattle, WA: Amazon Digital Services.

Polk, K., Schoendorff, B., Webster, M., & Olaz, F. O. (2016). The essential guide to the ACT Matrix: A step-by-step approach to using the ACT Matrix model in clinical practice. Oakland, CA: Context Press.
How to Contact Me
Frank J. Gallo, Ph.D.
Licensed Psychologist (MA, VT)
Retired, Cranston Police Department (RI)
Blue Life Behavioral Health
529 Main Street Suite 4
Indian Orchard, MA 01151
Phone: (413) 266-2859
Website: https://bluelifebehavioralhealth.com
This page contains attachments restricted to ACBS members. Please join or login with your ACBS account.