Student Rep. Varsha Eswara Murthy
Printer-friendly version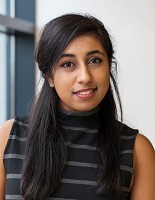 Varsha Eswara Murthy, University College Dublin (Ireland)
Student SIG Co-Chair and ACBS Board of Directors Student Representative
Varsha Eswara Murthy is a doctoral research student in University College Dublin (UCD). Varsha completed her undergraduate and master's degrees at UCD, graduating top of her Masters of Psychological Science class. Varsha's thesis focuses on developing and evaluating CBS interventions for marginalised populations, specifically those experiencing homelessness. With rising rates of homelessness and the resulting human suffering, the development of practicable and empirically validated interventions with a strong theoretical basis that will serve this population has been a goal of hers for some time. Alongside researching the development and efficacy of ACT interventions, Varsha has a background in basic science research and translating this research into applied contexts. She has published research in the area. Varsha has been a member of ACBS since 2015 and has presented her research at international conferences. Varsha hopes to continue researching and developing empirically supported CBS interventions for marginalised populations and the general public.
I am passionate about science communication, researching and translating basic science into applied practices. I will explore different avenues where students can highlight their research and get excited about basic science and its applications. I will put more robust formal supports in place that encourage members to communicate research within their communities, in academic and public contexts. My goal is to build supports for student members to collaborate on innovative research and to provide training by experts in the association. Working with marginalised populations, I am sensitive to the need to create safe and welcoming environments to people from diverse backgrounds. I will find new avenues to enhance the continued growth of a diverse student membership. I am confident that I can bring your ideas and concerns to the board, in order to enhance student involvement and help foster the development of the next generation of clinicians and scientists.