Nod to ACBS Developing Nations Training Fund
Printer-friendly version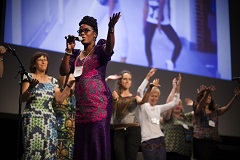 A very special ACBS program, the Developing Nations Training Fund, received a surprise acknowledgement in a recent issue of the Associations Now online magazine, published by ASAE.
In a recent article in their online magazine, they discuss different funding methods and scholarship programs for attending conferences, and our very own Developing Nations Training Fund was highlighted. Go here to read the complete article.
ASAE is a membership organization of more than 39,000 association executives and industry partners representing more than 7,400 organizations. Its members manage leading trade associations, individual membership societies, and voluntary organizations across the United States and in nearly 50 countries around the world.
To keep these important scholarships a part of ACBS programming, please consider donating here.
Congratulations and thank you to all of our past Developing Nations Scholars, the Developing Nations Committee, and all of our generous donors who make this program possible.