Looking back on a successful first three years
Printer-friendly version
Looking back on a successful first three years
by Sandra Georgescu
And the Chicago Chapter was born…..
It is common clinical practice that the presence of 2 people (clients) makes for a "group" …. In our case, it seemed that 3 people made for a consultation group whereas 5 people made for a whole chapter board. And so, it formally began in early 2010.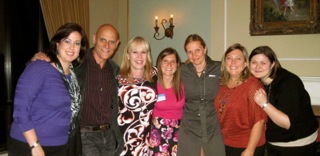 From its inception, our Chapter's mission has been to establish a place where ACT/ACBSers can come together locally to socialize, network, develop intellectually and support students from Chicago's many graduate programs. In essence, we wanted to scale the spirit of the national organization to local dimensions. We therefore created a community that is inclusive, supportive, connected and that can provide some of the advantages of ACBS (fondly referred to as "the mothership") at a local level. Rather than trying to create an organization with its own identity, we conceptualized and organized our Chapter to be an extension of ACBS, its mission and values.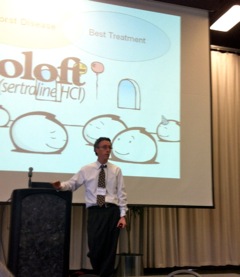 With this clear path ahead of us, the members of the Chicago Chapter have somehow been either involved or directly responsible for thelocal professional consultation group, local trainings, seasonal dinners, social, and networking meetings (this fall with Steve & almost Kelly!) and more recently the development of an informal student led consultation group. In addition, our First Annual Conference was held March 30-31st 2012 with approximately 100 individuals in attendance. In typical ACBS tradition, the program included a 1 day pre-conference experiential workshop led by Patty Bach Ph.D. On the second day, three tracks featured a wide variety of presentations mostly led by local talent and one international speaker. Jonathan Kanter Ph.D. visited us from the University of Wisconsin-Milwaukee and closed the conference with a spectacular keynote address on depression.
Behind the scenes, we have maintained a (simple yet useful) website, incorporated a non-for-profit organization and worked through numerous organizational kinks and hurdles. We have repeatedly been reunited and realigned by our mission and our service to our over 150 subscribers of which approximately half are dues paying members. The Chapter's goal is to expand the social, educational and professional growth opportunities for Chicago and the surrounding areas. Like proud parents, we are excited to watch the chapter mature (though we are dreading it's teenage years).
Visit us at http://contextualscience.org/chicago_chapter
and if you're in the area, please join us!