ACBS Annual World Conference 11
Printer-friendly version
This event has concluded. Please find information regarding the upcoming ACBS World Conference here.
---
Handouts and Powerpoints from World Conference 11 can be found here.
---
What is the World Conference?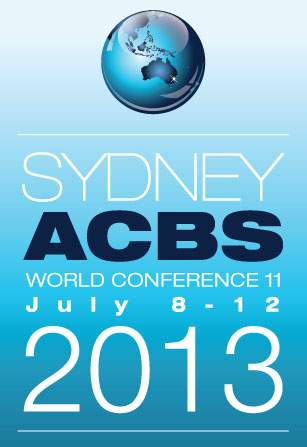 The World Conference brings together clinicians and researchers to present cutting-edge research in ACT, RFT, and Contextual Behavioral Science, as well as experienced trainers to lead experiential workshops so that you can learn how to better serve your clients.
The World Conference is for psychologists, social workers, professional counselors, marriage and family therapists, psychiatrists, physicians, drug counselors, health researchers, language researchers, behavior analysts, students and more.... Anyone in a similarly related helping or research field is invited to attend.
We offer CEs in Psychology (these are USA based credits), and California MFT & LCSW credits. More info here.
Registration in the full conference is all-inclusive and includes lunch, coffee/tea breaks, open access to workshops, research symposia, posters, panel discussions, plenary sessions with CBS researchers and practitioners, and our new IGNITE sessions.
Pre-Conference Intensive Workshops
First class intensive (2-day) workshops held the 2 days prior to the World Conference get things started off right. Learn ACT, RFT, CBS, FAP, Compassion Focused Therapy, and more from leaders in their field.
Program
Our Full Program is available here.
* Asterisk indicates a Peer-Reviewed ACT Trainer presenting
Conference Highlights
Invited Speakers: Steve Hayes, Paul Gilbert, Eva Jablonka and more... learn more about them here
A great venue for networking & fostering local and international collaboration
Lunches and coffee/tea are included so that you have more time to network
Conference activities take place on the beautiful campus of the University of New South Wales (Kensington Campus), near Coogee Beach.
Bring the family! - Our conference hotels are right by the Beach, and only 30 minutes from downtown Sydney via public transportation
Evening events provide additional opportunities to network and relax after other conference activities are done for the day (Tues.- Ocean view networking; Wed.- BBQ dinner; Thurs. - Follies!; Fri. - optional Sydney Harbour Cruise)
Workshops, Workshops, Workshops. Half-day workshops are included (no extra charge), with your conference registration. These are one-of-a-kind learning opportunities.

WC11 Audio Recordings
To access the audio recordings from WC11, please make sure you are logged in to your ACBS member account, and then click here.