III Poznańska Konferencja ACT i CBS: International Collaboration Made This European Conference a Success
Printer-friendly version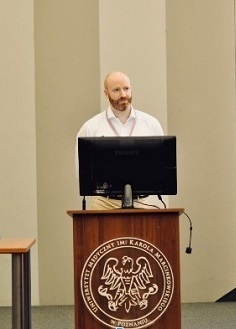 By Graciela Rovner, Ph.D.
We are still enjoying the afterglow of the first ever ACBS conference that had only European trainers and presenters, and the conference was held in May 2018 in the vibrant Polish city of Poznań. The ACBS Poland chapter, with Hubert Czupala on the lead, did an amazing job organizing this event, supported by the Institute of Clinical Psychology at the Poznań University of Medical Science and the Poznań Convention Bureau.
The ACBS Poland Conference was a well-balanced program specially designed to facilitate dissemination. The two day conference had four themes and important messages. The idea was to start disseminating values and commitment in a broader way, starting with Ross White's talk about migrants and global health and then Graciela Rovner's sustainable public health perspective. On the second day, Jacqueline A-Tjak spoke about ACT/depression and Louise McHugh dove into clinical RFT. All of these talks were surrounded with the amazing energy of the attendees and the perfectionistic planning by the organizing committee.
The program was strategically designed to meet the needs and the context of a young ACBS Polish community that is growing through collaboration with its neighboring countries: Graciela Rovner served as chair of the conference program and is president of the ACBS Swedish chapter; Louise McHugh, who served as the scientific chair, and Ross White are both from the ACBS UK/Ireland chapter; and Jacqueline A-Tjak is a past president of the ACBS Belgium/Netherlands chapter.
These four peer reviewed trainers offered a harmonic progression and continuity with their keynotes, starting with Ross White and his amazing experience and knowledge in Global Health. Ross White opened the conference by explaining how adaptation of the health care and a thoughtful culturalization in this process have impressive results. Recent publications underscore this powerful message. https://www.ncbi.nlm.nih.gov/pmc/articles/PMC5032500/ and http://bit.ly/WHOACTinUganda. Ross opened our hearts to the migrants who are now trying to find a better life in another country that offers more safety. Ross gave a very moving lecture!
Following Ross' global perspective, in the second plenary Graciela Rovner introduced the importance of prevention and treatment of chronic diseases (also referred by the WHO as 'the non-communicable diseases', NCD) and how to implement in healthcare the process of ACT with her unique model called ACTiveRehab. At the start of the plenary the public was asked to list leading causes of death and they agreed on sedentary lifestyle, so Graciela told them that they were there sitting and dying, so she encouraged every attendee to raise up and dance to 'Staying alive' (you can see the video here: https://www.facebook.com/psychologkarolinapiasecka/videos/2119240944987252/?t=0 Then Graciela explained in a dynamic way how conditions such as mental health, cardiovascular, respiratory, cancer, obesity, diabetes and musculoskeletal can be prevented and treated by lifestyle changes, such as cutting sedentary time, and decreasing the use of nicotine and alcohol, and also by increasing activity, participation in social events, organic diet, and having soothing and nourishing relationships. All this will in turn not only benefit our health, but also the planet's.
The second day was opened with a marvelous keynote by Jacqueline A-Tjak about depression and the state-of-the-art of ACT; as well as its relation to the evidence for CBT for depression. She explained this is a topic with many faces and also how depression can be a guide to growing. We learned how to recognize it, how to approach it; and how to befriend it. We also learned that ACT performs as well as CBT and ACT is promising in the long run. The last plenary, with the brilliant Louise McHugh and her ability to put RFT in such clear clinical terms was fascinating. There were images, associations, understanding how pliance and sensitivity to the context/adaptation can be both functional and dysfunctional, and lots of new ideas and laughs. Yes, you can actually have a lot of fun with RFT (and especially with Louise!).
In between these plenaries, there were many workshops and presentations, in English and in Polish and tons of social life… and of course, the funniest follies ever, with a lot of dancing and amazing food!
The Poland Conference is an example on how to collaborate and how to make a ACBS conference be a communitarian effort, with several stakeholders involved, many countries participating, and a lot of love. This is the ACBS community in ACTion!
I think it is worth emphasizing the fact that the conference succeeded thanks to the value we share in ACBS, that we help each other and that guests who came from all over Europe gave a beautiful example of not only talking about what is important but also participating in community-oriented activities.
Graciela Rovner, Ph.D., is the president of the ACBS Sweden Chapter. She also serves on the ACBS Membership Committee and the Chapter & SIG Committee. Graciela is an ACBS Certified Peer Reviewed ACT Trainer. She is the Founder of the ACT Institutet Sweden where she teaches and supervises, is employed at the Pain Clinic at the Angered Hospital in Gothenburg as project manager, and has her academic affiliation at the Karolinska Institutet Sweden.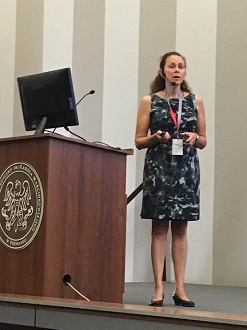 Jacqueline A-Tjak addresses the audience.