RFT Research explodes over last seven years
Printer-friendly version
What would happen if an approach to psychology developed a way to study
human language and cognition that was as solid in its basic foundations as, say, reinforcement
theory and as broad in its applications as, say, Acceptance and Commitment Therapy (ACT)?
I think we are about to find out.
RFT has always been the harder pull in terms of initial understanding and
excitement as compared to ACT, even though I always believed that
RFT is the more important of the two.
When the ACT book was published in 1999 we had a handful of outcome studies
in hand and a few dozen others studies on experiential avoidance and psychological
flexibility .... by 2010 there were several hundred. ACT just took off.
When the RFT book was published in 2001 we had perhaps 20 studies directly
on RFT. Most of the data for that book came by marshaling related studies that were
not yet specifically linked to RFT by name
such as the early work on stimulus equivalence. The first undeniable RFT
empirical study is probably Steele and Hayes, 1991 which is why I presume the first RFT
citation review article by Simon Dymond and colleagues
(Dymond, S., May, R.J., Munnelly, A., & Hoon, A.E. (2010). Evaluating the evidence based
for relational frame theory: A citation analysis. The Behavior Analyst, 33, 97–117. PMCID: PMC2867509)
started counting with 1991. By 2008, Dymond et al could find 42 empirical RFT articles.
Yeah, RFT work increased ... but it had not yet taken off. And look, you
just cannot build a comprehensive account of human language and cognition
averaging 2 empirical articles a year. It is not possible.
Fast forward to today.
A new study has just been released in the Journal of Contextual Behavioral
Science by O'Connor, Farrell, Munnelly, and McHugh (http://doi.org/10.1016/j.jcbs.2017.04.009)
and the data are stunning. Everyone who is an ACBS member has free access to this article ... just log into the
site and click on the JCBS figure in the right hand column of the main page, access
the free member portal, and go to in press articles.
The message in this article deserves to be shared with everyone you know who has interests
in behavioral psychology or in language and cognition. I suggest you reach
out to your friends and let them know about it. And cite the heck out of this study in your
scholarly work if it is RFT relevant. People need to get the message.
In the last seven years empirical research in RFT has ballooned.
Over that period nearly 300 empirical articles have appeared that cite and
relate to RFT and 160 are directly testing or extending the theory.
On a per year basis, total RFT research is up over 1,100% and specific
tests of RFT are up over 900%. The graph below shows the data.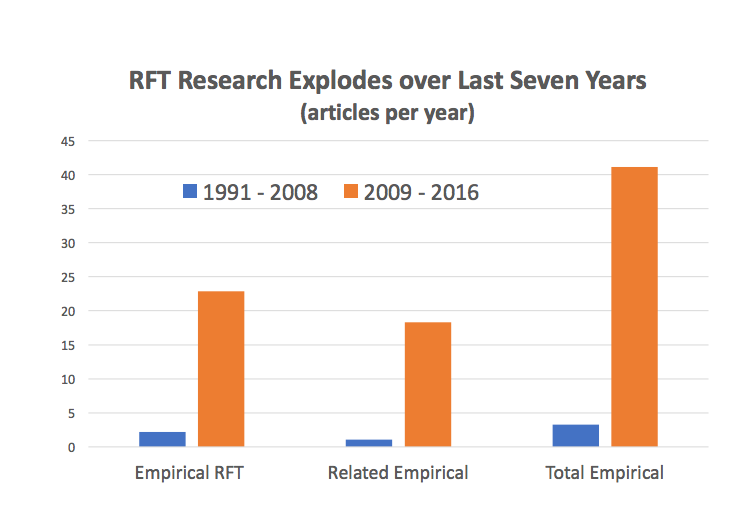 It is true that 23 empirical articles per year directly testing RFT
is still not enough to examine and build out the broad implications of
this approach. Even the ~40 per year articles on all related areas is not enough.
Part of the reason is the breadth. In the last seven years there have been
empirical RFT articles on aging, attractiveness bias, body image, death, suicidal ideation,
depression, disgust, exercise, food preferences, gender, gender and science, obesity,
politics, race, religion, self-esteem, self-forgiveness, sexuality, sexual offending,
smoking, intelligence, cognitive defusion, perspective taking, psychological flexibility,
rule following, motivation, avoidance, suppression, and coherence -- among others.
It is not an exhaustive list
But how about 100 articles a year? 150? That might do it and we are not that far
away. I think this article shows that RFT has arrived -- its here, its serious,
and its kicking ass and taking names.
In the first 17 years all RFT research was published in 6 behavioral
journals by a few dozen authors. In the last 7 years it has appeared in
36 different journals, many of which are not behavioral at all,
and over 300 authors have been involved.
What would happen if a behavioral approach to psychology developed a
broadly applicable analysis of human language and cognition that gathered the serious
attention of behavioral scientists around the globe? What would that do to applications in the areas where a
broad theory of cognition is relevant? What would that do to the sad perception
that behavioral psychology is dead or irrelevant?
I think this new study suggest something pretty cool:
we are about to find out.
- S
Steven C. Hayes
Foundation Professor
Behavior Analysis Program