JCBS: Journal Impact Factor Announcement
Printer-friendly version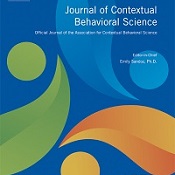 I am thrilled to announce that the Journal of Contextual Behavioral Science (JCBS) received our first Clarivate Analytics (formerly of Thomson Reuters) Journal Impact Factor in the 2018 release of the Journal Citations Report. Our impact was estimated at 1.216, indicating that articles published by JCBS in 2015 and 2016 were cited an average of 1.2 times in 2017. To further contextualize, this puts JCBS 91st (28th percentile) amongst 127 Clinical Psychology journals (Web of Science's designation for JCBS). The ten most highly cited articles that contributed to this impact are listed in the table below. I'm proud to note that it represents well the breadth and diversity of exceptional submissions we publish in JCBS.
Being assigned an Impact Factor is an important milestone that reflects not only the commitment of the JCBS Editorial Team, Editorial Board, ad-hoc reviewers, and authors to the highest quality research, but also the status of Contextual Behavioral Science (CBS) as a viable, productive, and meaningful scientific strategy. Together, these create a solid foundation for continuing to attract high quality submissions and further grow JCBS' impact, initiatives for which JCBS' Editorial Team and ACBS' Publications Committee already have underway.
With this in mind, I encourage you to share this news with your colleagues, to consider JCBS as a home for your next manuscript, and to volunteer as a reviewer. To revisit the nature, scope and purpose of Contextual Behavioral Science, please see Hayes, Barnes-Holmes, and Wilson's (2012) inaugural article (free to members of ACBS). Thank you for your support of JCBS so far.
Emily K. Sandoz, Ph.D.
Editor-in-Chief, Journal of Contextual Behavioral Science
| | |
| --- | --- |
| Article Title | Author |
| Illness cognitions, cognitive fusion, avoidance and self-compassion as predictors of distress and quality of life in a heterogeneous sample of adults, after cancer | Gillanders D.T., Sinclair A.K., MacLean M., Jardine K. |
| The interactive effect of cognitive fusion and experiential avoidance on anxiety, depression, stress and posttraumatic stress symptoms | Bardeen J.R., Fergus T.A. |
| Perspective taking reduces the fundamental attribution error | Hooper N., Erdogan A.,Keen G., Lawton K., McHugh L. |
| Acceptance and Commitment Therapy for children: A systematic review of intervention studies | Swain J., Hancock K., Dixon A., Bowman J. |
| Parent's psychological flexibility: Associations with parenting and child psychosocial well-being | Brassell A.A., Rosenberg E., Parent J., Rough J.N., Fondacaro K., Seehuus M. |
| Perspectives on the use of acceptance and commitment therapy related mobile apps: Results from a survey of students and professionals | Pierce B.P., Twohig M., Levin M.E. |
| Interpreting and inverting with less cursing: A guide to interpreting IRAP data | Hussey I., Thompson M., McEnteggart C., Barnes-Holmes D., Barnes-Holmes Y. |
| In search of the person in pain: A systematic review of conceptualization, assessment methods, and evidence for self and identity in chronic pain | Yu L., Norton S., Harrison A., McCracken L.M. |
| Psychological flexibility as a dimension of resilience for posttraumatic stress, depression, and risk for suicidal ideation among Air Force personnel | Bryan C.J., Ray-Sannerud B., Heron E.A. |
| Reinforcement matters: A preliminary, laboratory-based component-process analysis of Functional Analytic Psychotherapy's model of social connection | Haworth K., Kanter J.W., Tsai M., Kuczynski A.M., Rae J.R., Kohlenberg R.J. |