The Journal of Contextual Behavioral Science
Printer-friendly version
The Journal of Contextual Behavioral Science is the official journal of the Association for Contextual Behavioral Science (ACBS).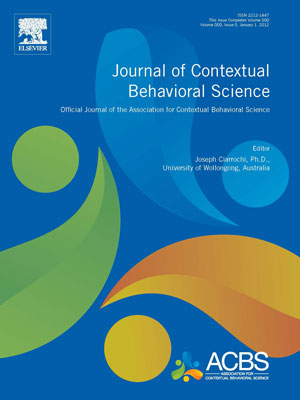 New in 2012, the highly anticipated Journal of Contextual Behavioral Science (JCBS) is set to become the premier source for important developments in all areas of contextual behavioral science. JCBS is distributed to most major academic libraries, and included as a benefit of ACBS membership.
Read the First Issue - (Freely available to the public)
Read all Issues - (Benefit of paid ACBS membership -- learn how to access this here)
JCBS welcomes a wide range of submissions including basic research, randomized control trials, practical and clinical innovations, theoretical and philosophical works, review articles, and more. Diverse areas of application can all find a place within the journal's broad mission: to change behavior at an individual or cultural level, to alleviate human suffering, and to advance human wellbeing. Thus articles may address a variety of topics such as clinical practice, work organization, education, or sport performance among others.
Learn more about the mission and scope of JCBS
Learn about the Journal's editorial and advisory teams