Registration & Fees - WC11 & Pre-Conference Workshops
Printer-friendly version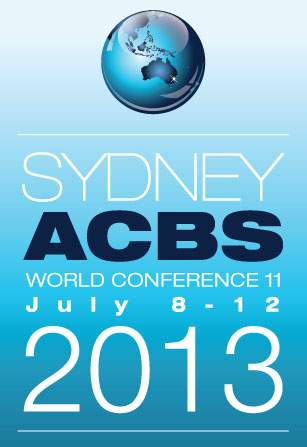 Online Registration Has Closed (onsite registration available for the World Conference, but limited for Pre-Conference Intensive Workshops)
World Conference 11 Registration Rates (July 10 -12, 2013) (all rates below in USD)
| | Onsite Registration |
| --- | --- |
| Professional | $640 |
| Student | $400 |
| Professional, Non-Member | $700 |
| Student, Non-Member | $430 |
Above prices include 3 lunches, AM & PM coffee/tea on site, one barbeque dinner (July 10), and a general certificate of attendance.
---
Pre-Conference Workshop Registration Rates (July 8-9, 2013)
The workshops below will be held the 2-days immediately preceding the ACBS World Conference XI. They will be 9:00-5:00pm on each day.
*The workshops run concurrently, therefore please double check the dates of the pre-conference workshops you are interested in. Also note that they require their own registration and fee (they are not included as part of the ACBS World Conference).
ONSITE REGISTRATION
2-day workshops
2-day FAP workshop
Professional
$420
$445
Student
$325
$350
Professional, Non-Member
$445
$470
Student, Non-Member
$350
$375
Above prices include 2 lunches, AM & PM coffee/tea on site, and a general certificate of attendance.
---
July 12 (Friday) 7:30pm-10:00pm
Adults $65, Children (5-12) $51
Space is Limited. SOLD OUT
---

Please Note:
To qualify for the rates above, registration as well as payment must be received in Jenison, Michigan, USA by the dates listed.
Additional fees are required for certificates that track the number of hours you attended ($10) and CEs ($45). These fees cover all events from July 8-12, 2013 and does not need to be paid twice for attending multiple events.
Lunches are provided on each day as well as coffee/tea during the AM & PM breaks (approx. 10:30am & 3:30pm).
We apologize that we may not be able to accommodate special meal requests (gluten free and vegan) for registrations received after June 14.
To register via Mail or Fax please use the Printable Version.
Online registration is not available after July 2, 2013.
Faxed (1 (225) 302-8688) or mailed registrations must be received at P.O. Box 655, Jenison, MI, 49429, USA, by June 21. (Note that prevailing rates will apply upon receipt.)
Student Registration/Membership is available to individuals who are enrolled in a program of study leading to a bachelor's, master's, or doctoral degree, are interns, or are postdoctoral candidates. Postdoctoral candidates qualify for Student Registration for up to 2 years, with proof of status from their employer. After this time, they need to register as a Professional. Note: Those registering for the conference as a student are ineligible to earn any kind of CE credits.
Refunds:
A $35 processing fee will be charged for World Conference & Pre-conference registration refunds up to June 21, 2013. (Per refund transaction.)
A processing fee of $10 will be charged for Sydney Harbour Cruise ticket refunds up to June 1, 2013. (Per refund transaction; only $35 will be charged if refunded in conjunction with a conference refund.) Refunds for the Sydney Harbour Cruise can not be made after June 1, 2013. (But let us know, there may be the chance that we can resell them onsite, based on demand.)
We regret that after June 21, 2013, refunds can not be made. If you need a refund, please contact us via email.
Photograph/Video Release:
ACBS has official photographers/videographers for this meeting. Photographs/video taken at ACBS's Annual World Conference may be used in future marketing, publicity, promotions, advertising and training activities for ACBS. By registering for this meeting, you agree to allow ACBS to use the photographs/video—which may include you—in all media formats worldwide. If you do not want to be photographed or videotaped, please notify the individuals capturing the information.
Waiver of Liability:
Each individual attending ACBS's Annual World Conference assumes all risks associated with his/her attendance and participation in all on- and off-site activities that occur during this time. By registering for this meeting, you agree to indemnify and hold harmless ACBS and its governing bodies, officers and employees from all loss, damage or liability arising out of or related to your attendance and participation at ACBS's Annual World Conference.
This page contains attachments restricted to ACBS members. Please join or login with your ACBS account.