Student Spotlight Award Recipient - Joshua Schultz
Printer-friendly version
Congratulations to Joshua Schultz on being selected as one of the Student Spotlight Award recipients!
The purpose of this award is to highlight students who are doing important work in the CBS community whether for research, clinical, and/or volunteer-humanitarian efforts.
This is a way to highlight their achievements, let the ACBS community know important work students are doing, and possibly provide a platform for mentoring/collaboration/professional development/conversations around highlighted areas.
---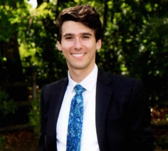 Learn more about Joshua:
Background of CBS Research/Clinical/Volunteering efforts/achievements:
I have been studying and practicing Acceptance and Commitment therapy for the past three years in my graduate program, and have been integrating the theory into both my research and clinical placements. I am currently working on my dissertation, which proposes a model for executive coaching using ACT to help leaders cultivate self-compassion, and increase compassion in the workplace culture. I am working with a client, a department head at my university, implementing the ACT coaching model that I am developing. I also use ACT techniques in my current internship placement as a therapist at an inpatient residential drug and alcohol rehabilitation center, where I conduct both individual and group therapy. Through helping my clients identify their values and develop mindfulness skills, I help them take action to accept their demons and act in valued ways. Through developing coping skills and bringing mindful awareness to the choice point, I help my clients get ready for the next phase of their treatment and lives. ACT is an invaluable tool, because it helps me help my clients to stop struggling against themselves.
Three sentence summary of CBS research/clinical/volunteering efforts/achievements:
I am developing and implementing an executive coaching intervention for self-compassion using ACT, which is the topic of my dissertation. I use ACT in my work at an inpatient drug and alcohol rehabilitation center to help my client accept their demons and move closer towards their values. I am using ACT in this setting as a way of helping my clients develop coping skills for the next stage of trauma treatment.
Autobiography:
I am 25 years old, from Holland, Pennsylvania, and currently live in Philadelphia. I have been studying psychology for the past 8 years, the last 4 in my graduate program. When I am not studying, I am usually spending time with friends and family, and I like to create both art and music. I write poetry and short stories, I paint, and I play the drums in a band which plays shows around the greater Philadelphia area. I am also developing a spiritual practice, grounded in the mindfulness teachings of John Kabat-Zinn and others, as well as my upbringing as a Jewish person. I am growing each day as both a clinician and a human being, and I am excited for the next steps in my life and career.
Future goals:
I hope to work as both an executive coach and therapist, using ACT to help my clients become more compassionate with themselves and others.