ACT in Context Podcast Reboot
Printer-friendly version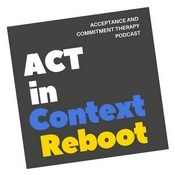 The ACT in Context Podcast is back! New episodes will be posted regularly. Our goal with the podcast is to have a series of conversations with some of the interesting members of our contextual behavioral science community. We think is it like going out for dinner at the ACBS World Conference and talking about what we're passionate about. Producted by Marcel Tasara, hosted by Joanne Steinwachs and Tim Gordon, ACT in Context is being offered as both a traditional podcast with audio and as a video podcast (available on YouTube). Just search for ACT in Context Podcast.
We're hoping to include our listeners in the conversations so email us at actincontextpodcast@gmail.com and tweet us @ACTinContext Please send us your thoughts and even better—a video or audio clip of your question that we can play on the podcast.
You can listen to the ACT in Context Reboot trailer and the new episodes.