Mexico
Printer-friendly version
Mexico-ACBS (Asociación Mexicana por las Ciencia Conductual-Contextual)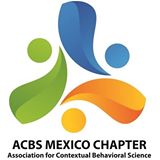 Affiliated 2012
Contact Information
Board of Directors (serving from June 1st 2018 to May 31st 2020)
President - Rogelio Escalante Rueda
Vice president - Humberto Villa Cortes
Members representative - José Ignacio Cruz Gaitán
Students representative - Carlos Lopez Lopez
Past President - Michel A. Reyes Ortega
Mission/Objectives
Promote Contextual Behavioral Science. Support research and practice of Contextual Behavioral Science. Contact ACBS wider community for further clinical training and supervision. Development of ACT oriented educational programs. Development of ACT oriented clinical services. Development of an organized comunity who supports, regulates and promote the development of contextual behavioral clinical practice.
Chapter Activities
The chapter engage in activities designed to:
-supporting CBS related research in Mexico and establishing research colaborations with international CBS community
-acquiring newsletters, journals and other publications
-specifying or promoting education and training criteria
Description of Membership
Mental health or related professionals interested in research and aplication of CBS.